Sewage Cleaning Services in North Dallas, TX
4/26/2021 (Permalink)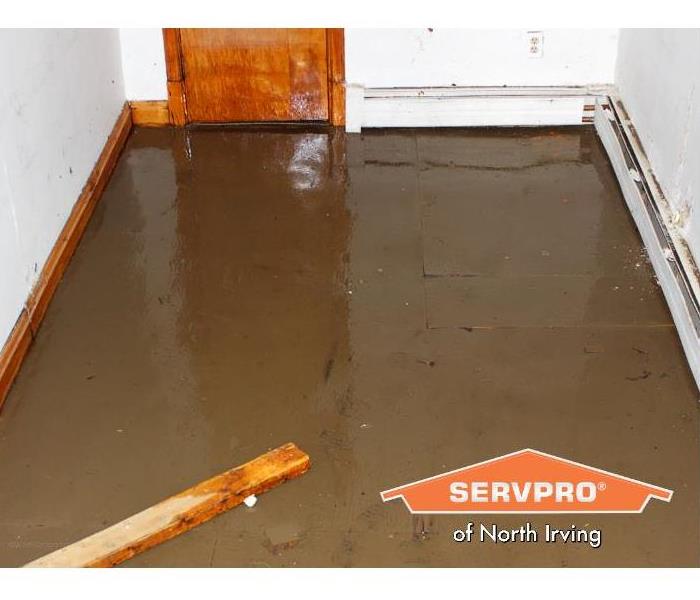 SERVPRO of North Dallas is prepared to respond to any sewage emergency. Our water damage experts will address the damage contamination step by step.
Sewage is also known as wastewater. Washing clothes, dishes, and body parts, as well as flushing toilets, all contribute to wastewater. Because sewage is biohazardous due to it containing human waste, systems are designed to keep sewage securely contained.
Sewage emergencies can and will happen due to sewer line failures or blockage within the system. It could also happen during a storm when floodwaters knock sewage-containing components out of place.
However sewage gets inside your home or business, it's necessary to exercise extreme caution whenever contaminated water is present. Making contact with the biohazardous waste in sewage threatens your health, and possibly your life.
How to Identify Sewage
If water is coming up through a toilet, shower, or sink drain that smells foul and looks dirty, there's a high probability that it's contaminated. If floodwaters enter your home or business from the street, there is also a good chance that the water has mixed with toxic waste.
Septic issues are another cause of sewage backup. The CDC advises those with septic systems to watch for these signs of septic failure:
Sinks drain slowly
Toilets drain slowly
Floor drains overflow
Sewage becomes visible outside the home
What to Do When There is Sewage Indoors
Because sewage contamination poses a serious health hazard, you should do your best to steer clear of it. Here are tips on how to handle a sewage contamination situation that is indoors.
Try to avoid the affected area as much as possible. Do not handle contaminated items without personal protective wear.
Turn off HVAC systems and open the windows for ventilation.
Turn off the main breaker if there are high floodwaters.
Treat all bodily fluids as if they are contaminated.
You may add small amounts of chlorine bleach to standing water until help arrives.
Do not attempt to unclog drains because the sewage must be removed first.
Do not use a shop vac or other vacuum to remove contaminated water.
Call emergency services if the situation is life-threatening.
Take photos for property insurance documentation.
While no one likes to have a big mess in their space, it's best to leave it alone and wait for professionals to come help.
Call SERVPRO of North Dallas for Sewage Cleanup
SERVPRO of North Dallas is prepared to respond to any flood damage or sewage cleaning emergency. We have the proper personal protective equipment to get close to the contamination so that you won't have to.
Our team of water damage experts addresses the contamination step by step. First, we do an assessment of the area to see how much of it is affected. Next, we work to safely extract as much of the contaminated water as possible. Then we dry out the area and rid all materials of contamination, including any textiles that have been touched by the water.
If your home or business has been affected by sewage in any way, don't delay! Contact us 24/7 at (972) 690-1414 for emergency contact.